When it comes to decorating for Valentine's Day, it can be hard to come up with a sophisticated and cozy feeling for your bedroom or master bath. This is especially true if much of the holiday decor in stores is more geared towards hosting a Valentine's Day party rather than accessorizing your home. If you are looking to make your space feel cozy, intimate, and a celebration of your relationship, here are five ways to decorate your space.
1. A Wintery Mix of Love
When January comes around, much of our holiday decor gets packed away until next year, but consider keeping a few key pieces out and restaging them with a Valentine's Day look. February is a wintery month, and it can be a great way to embrace the season, by using it as a theme for your Valentine's Day bedroom. Evergreen boughs or trees, snowflake motifs, and anything that sparkles with Valentine's Day color (think reds, pinks, whites, or golds), can be repurposed for this holiday.
Once you have chosen a wintery theme, then add in some personalized layers of love. These personalized things could be photos of you throughout your relationship, little love notes to be opened each day leading up to February 14th, or something significant to you. Using these items, you can create small tableaus of decor on side tables, dressers, or the bathroom counter. Add in a couple of throw pillows that fit your theme, and your bedroom will be ready to embrace the winter and the cozy feeling of love throughout February.
2. I Really Heart You
Everyone knows that hearts are at the core of all Valentine's Day celebrations. You can take that theme and bring a level of sophistication to your bedroom and bathroom by layering heart-shaped accessories throughout your space. If you want a subtle look, consider finding heart-shaped pieces in natural materials: wood, stone, clay, rattan, or wool are great choices. By playing up the heart shape and playing down the color, this decor idea emphasizes repetition to bring the whole room together.

Alternatively, if you are the type to embrace color, you can use this heart-theme as a way to brighten up your space with a single color in multiple tones. This can certainly be done with classic Valentine's Day colors such as shades of pink or red. However, you could bring in an element of surprise with an unexpected color theme, such as greens or purples. It all depends on your taste and what feels right to you.
3. Layering Textures with Valentine Colors
One tried and true way of adding interest to any design theme is to layer textures throughout a room. For a subtle but cozy Valentine space, consider using textures in quintessential colors for this holiday throughout your space. This will give a feel of the holiday without being a literal translation, this theme doesn't need hearts or flowers to be effective.
For example, you might choose rose gold and white as your colors, and add in blankets, pillows, throw rugs, towels, or accessories in various textures. You could add glass, metallic, or sparkle in these colors alongside knits, faux fur, or silk. You can also do this with golds, reds, or silver depending on what works for your taste.
4. Words of Love
One unexpected but effective way to change up your decor for Valentine's Day is to temporarily bring in new wall decor. With the popularity of quotes and sayings as wall art, you could pull in a theme of words, phrases, and quotes about love into your bedroom or bathroom. By switching up the art and family photos in your bedroom it will give the whole room a different feel with a fairly easy change.
You can pick new pieces that are a similar size and shape to your original artwork, and simply replace them for the month of February. To not overwhelm your space, make sure to pick pieces that vary in font types, lengths of the quotes, and color. One great way to play with this is to have single words on larger pieces and longer quotes on smaller pieces. You can add throw pillows to your bed or armchair with words of love on it.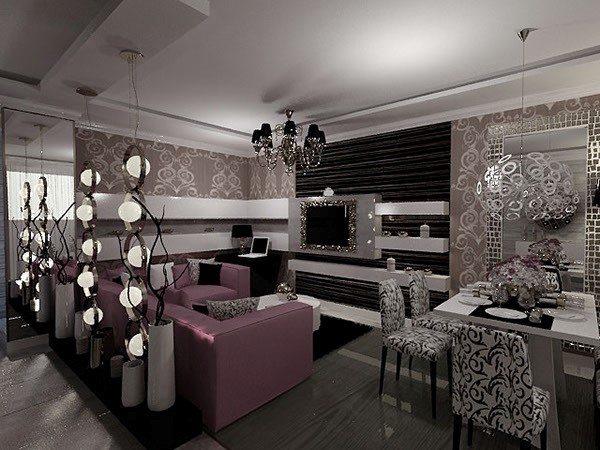 This decor idea could be especially personal if you and your significant other have written love letters to one another or have a certain poem or song that is meaningful to you. By making or ordering customized pieces with personal quotes on it, the entire room can become a symbol of your relationship. This is a very heartfelt way to decorate for Valentine's Day.
5. A Flowering Display of Spring
As an alternative to embracing the winter is embracing the coming spring. You can celebrate this holiday by emphasizing the giving of flowers and using it throughout your room. You can make this a lush and vibrant space with pops of color with bouquets, and lots of greenery.
This room can be a transformative space, that feels warmer and brighter than the snowy landscape outside. One easy change is switching up the bedding to something that feels lush and bright in color. To give this a real Valentine's Day feel, you can keep the colors of your flowers and bedding to pinks and whites, or alternatively choose deep reds and purples depending on how it might work for your personal style.
Overall, you can create a space that is a representation of your love and feels both cozy and sophisticated without compromising on your style. Each of these ideas is versatile enough to fit within the style of any home, and be customized to what works for your space. Pick a theme or decor idea that speaks to you and personalize it to make your space feel like a celebration of love.
This simple change in your bedroom and bathroom can end up bringing deeper meaning to how you celebrate with your loved one, and make this holiday about so much more than a night out together.