Experts are estimating nearly one-half of all U.S. homes will become "smart" through home automation by the end of 2020. While becoming more mainstream, home automation is still an evolving technology with new platforms, products, and features being released to market continuously. This can make the idea of inviting smart automation into your life a bit daunting and overwhelming. Here, we give you the scoop on the basics and the exciting trends in home automation for 2020 to get you up to speed and embracing the smart living in no time.
What is Home Automation?
Comprised of a central controller networked with "smart" devices, home automation technology allows you to control household systems, including lighting, climate (thermostats), security, lawn care, and more. It involves everything from setting a time for your lights to turn on or off automatically to locking a forgotten door from across the country. There are not many areas of our lives where electrical devices are not going to be controlled from a central controller.
It is advised you get familiar with the ins and outs of automation before venturing into installing it in your own home. SafeWise.com offers an FAQ on Home Automation to get you there.
Smart Devices Get Smarter
The technology continues to improve in user-friendliness, speed, and power, with 2020 standing to see artificial intelligence used domestically in exciting new ways. Smart home controllers and networks from Apple, Google, and Amazon lead the pack in making connectivity within the home easier and more accessible.
Smart Controls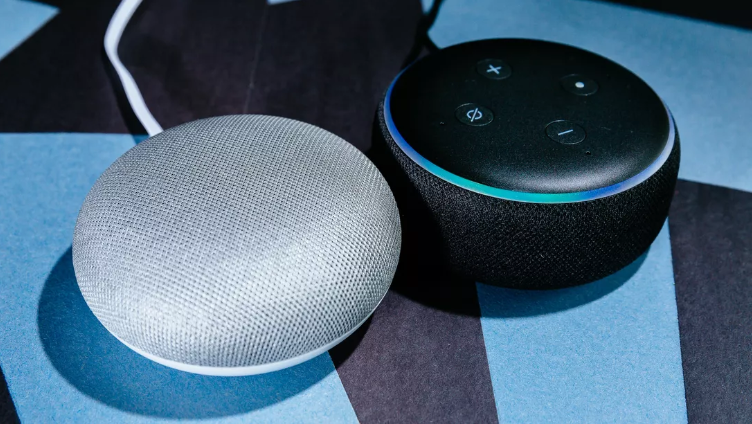 Credit: CNET.com
Three of the biggest tech giants, Apple, Google, and Amazon, announced in December 2019 that they would be banding together to create one open-source platform that will allow for cross-connectivity and control of competing devices. As it stands now, not every device works with another type of device, whether Apple or Android. The companies said, "customers can be confident that their device of choice will work in their home and that they will be able to set up and control it with their preferred system. Choose between Google Assistant, Amazon Alexa, Apple Siri, or other platforms."
Smart Lighting
Credit: thewirecutter.com
Whether you hate coming home to a dark house or struggle for the light switch in the middle of the night when heading in the bathroom, smart lighting can be automated to fit your needs for safety and efficiency. Imagine if you could set a timer from your phone that turns on all the lamps and lighting you need automatically. Or one that adjusts the blinds to allow natural light to stream into the room or closes them to block harsh sunlight. Smart lighting can do all this and more.
Smart Safety
Credit: techive.com
If you are familiar with the self-install smart doorbells such as Ring, then you know the possibilities for keeping you safe are becoming increasingly more intuitive. You can now increase safety through networked cameras with voice capabilities and window and door sensors, all controlled through your phone or tablet. You get real-time alerts when you are away, and someone comes to your front door or tries to break in.
Smart Sensors
All home automation is controlled using sensors in your systems from HVAC systems to smoke detectors to water heaters. With improved sensors coming online in 2020, you can monitor conditions with these units and get alerts when there is maintenance required. These smarter sensors can save in costly repairs after the fact.
Other Smart Trends for 2020
Smart home technology is predicted to become a more popular selling point for buyers, much like updated kitchens and baths were in the past.
Smart furniture is increasingly getting networked into homes with beds adjusting automatically to your sleep, smart sofas adjusting to the comfort of each user, and smart shelving in the pantry that keeps track of what's there and what needed for the next shopping trip.
Smart climate control and thermostats become even more eco-friendly by supporting energy efficiency and lower energy bills.
Receive alerts for items such as when the mail is delivered, when your plants need watering, when your pet runs away, the kids coming in and out of the house, and more.